2022 "Power of the Knight" regional qualifer
NPC Worldwide "Power of the Knight" overall winners receive paid entry to Pro Qualifier Olympia Amateur Italy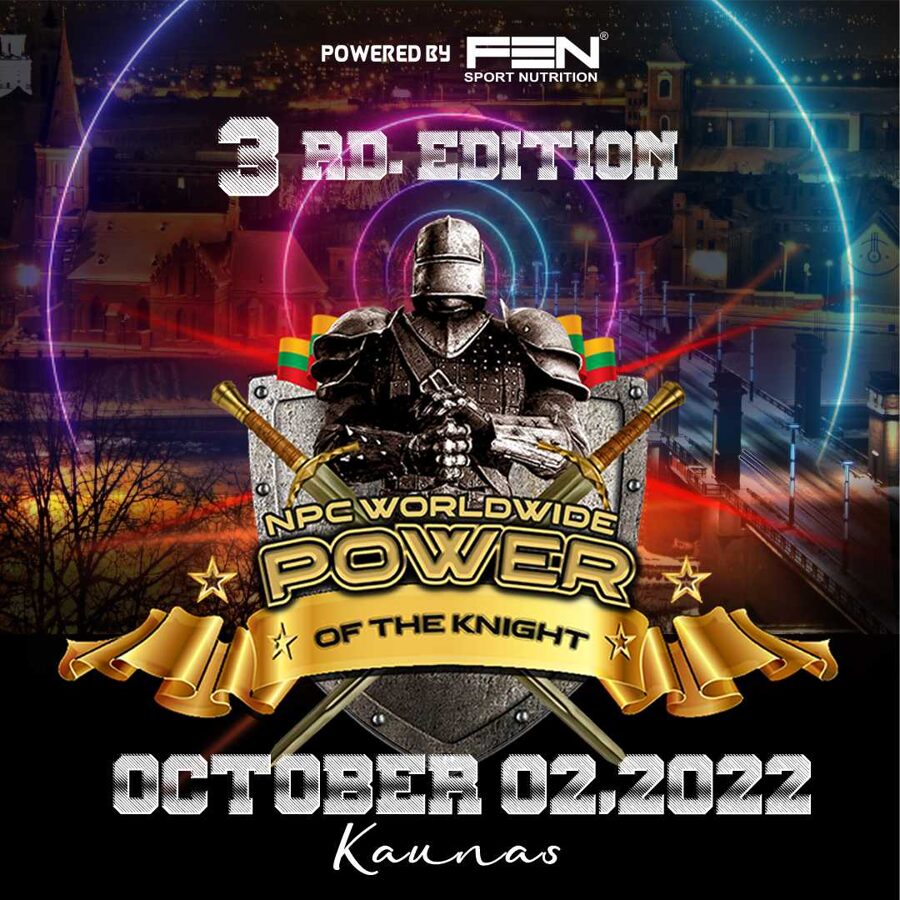 Airports: The nearest airport : Kaunas airport (KUN) 11 km from the venue, Vilnius airport (VNO) 97 km from the Venue
Ahletes need to registrate and pay online till September 28th.
Physical registration will be 2022-10-01 12:00-15:00, at Radisson Hotel Kaunas, Donelaičio str. 27, Kaunas
Venue for the competition: 2022-10-02, 10:00 Kovo 11-osios str. 26, Kaunas.
Athletes entry to the venue will be from Kovo 11-osios str., downstairs (entry will be marked).
Trainers who want to get to the backstage should buy trainer pass during physical registration.
Categories schedule
Men's Classic Physique
Women's Figure
Men's Bodybuilding
Women's Bikini
Men's Physique
Women's Wellness
Categories:

Men's Physique
True Novice (one class)
Open Class A Up to and including 5' 8" (173 cm)
Open Class B Over 5' 8" (173 cm)
Classic Physique
True Novice (one class)
Masters +35 (one class)
Open Class A up to and including 5' 9" (175 cm)
Open Class B over 5' 9" (175 cm)
Men's Bodybuilding

True Novice (one class)
Junior (one class)
Masters +40
Masters +50
Open Bantamweight up to and including 154 ¼ lbs (70 kg)
Open Lightweight over 154 ¼ lbs (70 kg) up to and including 176 ¼ lbs (80 kg)
Open Light-Heavyweight over 176 ¼ lbs (80 kg) up to and including 198 ¼ lbs (90 kg)
Open Heavyweight oltre 198 ¼ libbre (90 kg)
Bikini
True Novice (one class)
Open Class A Up to and including 5' 4" (163 cm)
Open Class B Over 5' 4" and up to and including 5' 6" (168 cm)
Open Class C Over 5' 6" (168 cm)
Wellness

True Novice (one class)
Open Class (one class)
Figure
Main class: 100 Eur
Plus 1 extra class: + 50 Eur
Plus 2 extra class: +100 Eur